Kuhlau op. 83-1 of Anne Pustlauk
It is the recording for her doctorate.
Uplaoded with her permission.
You can see and listen her very nice performance. Click in the photo. Enjoy it!
Sonata for Flute & Piano
Op.83-1
I : Allegro con brio
II : Andantino quasi allegretto (Variation sur un ancien air suédois)
III : Allegro
Anne Pustlauk: Keyed Flute (by R. Tutz after A. Grenser)
Piet Kuijken: Hammerflügel (by Conrad Graf)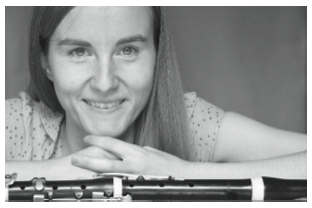 Anne Pustlauk
---
The keyed flute is a copy of an instrument of Carl August Grenser (late 18th / early 19th century). Grenser was very famous in his time, and his instruments were played throughout Europe. The Copenhagen court orchestra also had some flutes from the workshop Grenser.
---
from 5th chapter of Thrane's "Kuhlau-Biography"
Kuhlau had made​ and determines Vienna, where he stayed for only a short time, this time, not wanting to leave before he had learned Beethoven personally. But that was not so easy a thing. Because Beethoven was, unfortunately, not in Vienna himself, but in the several hours it remote Baden, where he had his summer residence. However, no obstacle could no longer be considered, and Kuhlau's due ("the estimated guests honor") hosted Mr. Haslinger on 2 September, a trip to Baden; society still consisted of the professor at the Conservatorium Sellner, the Hofinstrumentmaker Conrad Graf and Beethoven's friend Holz.
---
Profile of Ms. Anne Pustlauk:
When she was still in high school, Anne Pustlauk studied at the Musikhochschule Hanns Eisler in Berlin as a "Jungstudent" . After graduating from high school, she studied the flute with Prof. Renate Greiss-Armin at the Musikhochschule Karlsruhe. It was here that she discovered her love for the baroque flute which she studied as secondary instrument. The baroque flute became her main instrument and a DAAD scholarship enabled her to begin master studies with Dr. Barthold Kuijken at the Brussels Conservatory. In 2009 she graduated with great distinction. In the same year she won the 3rd prize at the International Telemann Competition. She also won the 2nd prize with her piano trio "Helianthus" and the Musica Antiqua da Camera prize for the best solistic playing at the Van Wassenaer Concours Amsterdam. In addition to her concert activities, Anne Pustlauk did intensive research into the repertoire and historical performance practice of the keyed flute. Since October 2011 she has been specializing in this field within the framework of an artistic doctoral research at the Vrije Universiteit Brussel. In the same year she became assistent of Dr. Barthold Kuijken and Frank Theuns at the Brussels Conservatory.
IFKS Member : Nr. 393
---
21. March. 2013
Toshinori Ishihara