Announcement of forthcoming (Kuhlau : Piano Variations)
On May 19, 2014 "Kuhlau : Piano Variations" all three volumes will be published by IFKS.
This edition is the first time in the world to publish as complete works (which is included in the piano sonatas is excluded) the variations of all Kuhlau's. DF199 "Lorsque dans une tour obscure", which has not been discovered until today, has been publisched as the world's first reprinted in this publication. There is a commentary for each numbers, are also described in English and Japanese by Gorm-Busk / Ishihara Toshinori.
From the Introduction:
As an extension of our edition "Kuhlau : Piano Sonatas", we are following up with "Kuhlau : Piano Variations". These two genres, sonatas and variations, were (together with rondos) the most common types of piano music at the time; and, like the variation works of other composers, Kuhlau's were based on popular melodies of the day – either from operas (mostly, arias) or folksongs. --------
Price : 2500 JPY + Tax (8%) for each volume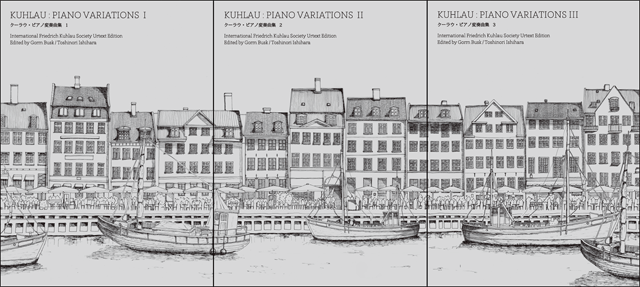 from the left, the Cover of Volume 1., Volume 2. and Volume 3.
The second house from the left of cover of Volume 1, where Kuhlau spent his last days, exists at Nyhavn in Copenhagen.
---
1. Volume
| | | | | |
| --- | --- | --- | --- | --- |
| | Op. Number | Composition | Page | |
| 1 | DF.199 | Lorsque dans une tour obscure | 1〜9 | 9 |
| 2 | DF.196 | Air de Berton | 10〜13 | 4 |
| 3 | Op.12 | Guide mes pas of Cherubini | 14〜30 | 17 |
| 4 | Op.14 | Manden med Glas i Haand | 31〜36 | 6 |
| 5 | Op.15 | God Dag, Rasmus Jensen med din Kofte | 37〜44 | 8 |
| 6 | Op.16 | Kong Christian stod ved højen Mast | 45〜55 | 11 |
| 7 | Op.18 | Willkommen, Purpurschale, du! | 56〜72 | 17 |
| 8 | Op.22 | Ein dänisches Lied | 73〜84 | 12 |
| 9 | Op.25 | Schwedische Themen | 85〜103 | 19 |
| 10 | Op.35 | Danmark! Heilige Lyd! of Weyse | 104〜114 | 11 |
| 11 | Op.42-1 | Österreichsche Volkslied Nr.1 | 115〜137 | 23 |
| 12 | Op.42-2 | Österreichsche Volkslied Nr.2 |   |   |
| 13 | Op.42-3 | Österreichsche Volkslied Nr.3  |   |   |
| 14 | Op.42-4 | Österreichsche Volkslied Nr.4  |   |   |
| 15 | Op.42-5 | Österreichsche Volkslied Nr.5 |   |   |
| 16 | Op.42-6 | Österreichsche Volkslied Nr.6  |   |   |

2. Volume
| | | | | |
| --- | --- | --- | --- | --- |
| 17 | Op.48 | das VolksLied aus Weber's "Freischütz" | 1〜16 | 16 |
| 18 | Op.49-1 | Thema aus Weber's "Freischütz" Nr.1 | 17〜31 | 15 |
| 19 | Op.49-2 | Thema aus Weber's "Freischütz" Nr.2  | 32〜37 | 6 |
| 20 | Op.49-3 | Thema aus Weber's "Freischütz" Nr.3  | 38〜52 | 15 |
| 21 | Op.49-4 | Thema aus Weber's "Freischütz" Nr.4 | 53〜64 | 12 |
| 22 | Op.49-5 | Thema aus Weber's "Freischütz" Nr.5  | 65〜78 | 14 |
| 23 | Op.49-6 | Thema aus Weber's "Freischütz" Nr.6  | 79〜88 | 10 |
| 24 | Op.53-1 | Thema aus Weber's "Preciosa" Nr.1 | 89〜99 | 11 |
| 25 | Op.53-2 | Thema aus Weber's "Preciosa" Nr.2 | 100〜109 | 10 |
| 26 | Op.53-3 | Thema aus Weber's "Preciosa" Nr.3  | 110〜120 | 11 |
| 27 | Op.54 | Lied of Bianchi | 121〜146 | 26 |

3. Volume
| | | | | |
| --- | --- | --- | --- | --- |
| 28 | Op.62-1 | Themen aus Weber's "Euryanthe" Nr.1 | 1〜17 | 17 |
| 29 | Op.62-2 | Themen aus Weber's "Euryanthe" Nr.2 | 18〜38 | 21 |
| 30 | Op.62-3 | Themen aus Weber's "Euryanthe" Nr.3 | 39〜55 | 17 |
| 31 | Op.91 | Och liten Karin tjente wid unge Kungens gård | 56〜72 | 17 |
| 32 | Op.93 | Fantaisie sur des airs suédois | 73〜91 | 19 |
| 33 | Op.112-1 | Airs Varié Nr.1 | 92〜99 | 8 |
| 34 | Op.112-2 | Airs Varié Nr.2 | 100〜108 | 9 |
| 35 | Op.112-3 | Airs Varié Nr.3  | 109〜116 | 8 |
| 36 | Op.116-1 | Wilhelm Tell of Rossini Nr.1 | 117〜122 | 6 |
| 37 | Op.116-2 | Wilhelm Tell of Rossini Nr.2  | 123〜129 | 7 |
| 38 | Op.126 | Divertissement and Variations | 130〜146 | 17 |
---
You can read and listen all works with Quicktime (Mp4) or Mp3.
<Click here>
---
14. April. 2013
Toshinori Ishihara