Didn't apear a Sherlock Holmes !!!
No one has ever been a Sherlock Holmes. It is heartbreaking for me that anyone could not solve a puzzle put into a card.
I sent a music, "Andantino grazioso" on a 2012 New Year's Card to many people. I'm afraid that almost all of them have been thinking repeatedly about what it means could not have gotten enough sleeping for five months and longer.

Let me show the reason why I have to apologize to you.

Now, I'm going to prepare publishing some bands for some piano sonatas of Kuhlau from Hanna Co. Ltd on 10 October 2012, which will be revised by both Dr. Busk and me. I had discussed about these details in Denmark with him after the International Flute Competition of Kuhlau in Germany (2011). We decided that sonatas, which printed only in the first edition should be selected. Finally, 19 pieces of sonata are picked up and divided into four bands to which we change from the firstly planned three.

We are continuing to digitize some pieces of piano music for easily checking them on the internet. It is not only for pianists but also for music lovers. I hope that members of the International Friedrich Kuhlau Society (IFKS) are familiar to him. This working is also to reconfirm my own knowledge of Kuhlau. I've got a new one finally. That sounded a romantic melody in my mind. I have arranged it for flute and piano. It is very appropriate for flute. "Well, it's great" I thought. I would like to have my disciples played it as an anonymous music. All of them said that it was very beautiful. That time I'd have wanted them to tell who the composer was. But I didn't do that.

I used to write and send the New Year's cards later in the year. New Year Eve had already come while I did not get good ideas. A good idea came up in my head at the end of the last. It was to print "Andantino grazioso" on it and write about its history. I had been able to send them just for the year's bell was ringing.

The New Year's Card, what is called, "Nengajo" in Japan, seems like both public and private. I always send almost 700 of the Nengajo to my friends, acquaintances, relative, disciples, and member of IFKS every a new year. This year card has been gotten to trap all of them into my puzzle. I pretended not to know who its composer had been. It is no problem that I tell a little bit of lie for widely advertising Kuhlau.
Please recheck a New Year's Card from me and enjoy its puzzle.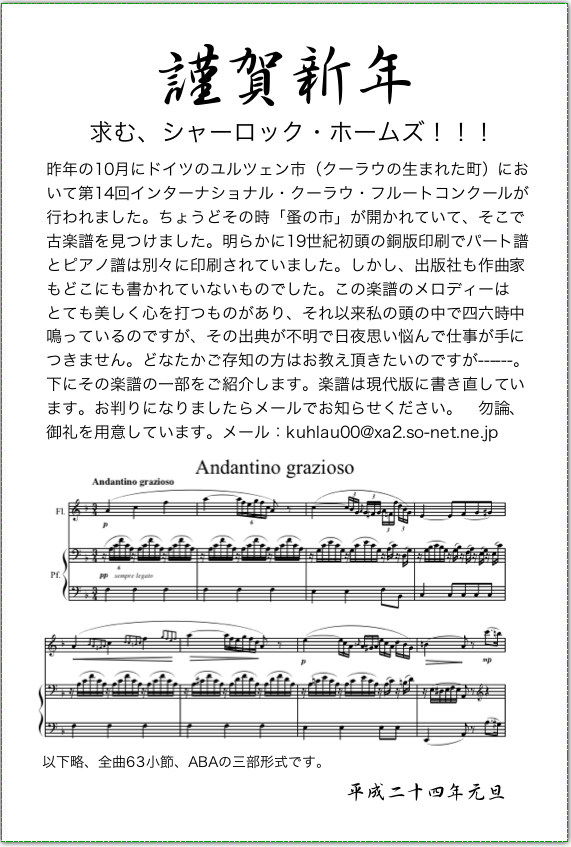 Red characteristics show my lies.


A Happy New Year !

I'm looking for a Sherlock Holmes!!!
The 14th international Flute Competition of Kuhlau was held at Uelzen in Germany last October. Uelzen is the city where Kuhlau was born (It is true). That time a flea market was opened (A flea market is not true. But a weekday market on the street is open for vegetables, meats, flowers and other foods. Hence it is half true). I found an old music there. (We can't buy music as a flea market is not open there.) Flute part and piano part was separately printed with the copperplate in early 19th century (It is also not true). But the publisher's and composer's name was not printed on it (Add to the lie). This melody is very beautiful (It is completely true) and has a strongly effect on my mind. I can always remember it. I couldn't work hard whenever I thought where it came from (a little exaggerated). (But it is true, I'm regretting that I lied in my card.) I show a part of its, which rewrote in modern version. Pleases tell or e-mail it to me if you know this music. Of course, thank for your information and give something good for you.
E-mail address: kuhlau00@xa2.so-net.ne.jp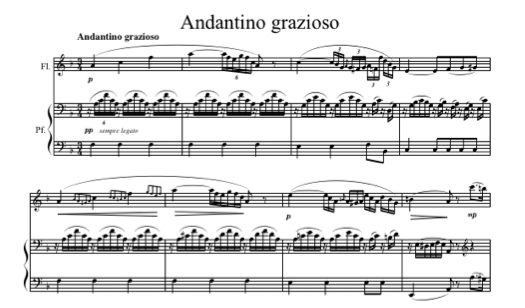 The music is 63 takts. It is ABA form.
1.1.2012
Here I'll show you a correct answer for this music.
This is originally a piano music, composed by Kuhlau.
The 2nd movement of Piano sonata op.46-3.
It is composed in 1822 and published in 1823.
That card had a great reflect on many people. And they said, "It is so beautiful. But I don't know who the composer is."
There was no one to answer it correctly on 1. May 2012. It is heart breaking for me because its CD had ever been on sale. Many people have a chance to hear it.
Klavermusik Kuhlau Piano Works vol.1

- Thomas Trondhjem
Variationer for klaver over Det var en lørdag aften, f-mol, opus 22
Variationer for klaver over Manden med glas i hånd, C-dur, opus 14
Variationer for klaver over God dag, Rasmus Jansen med din kofte, a-mol, opus 15
Sonate for klaver, G-dur, opus 34
Sonate for klaver,G-dur, opus 46:1
Sonate for klaver, d-mol, opus 46:2


Sonate for klaver, C-dur, opus 46:3


Thomas Trondhjem, klaver. Indspillet 1991-92
Plademærke og -nummer:

Rondo RCD 8341


CD described by Jørgen Erichsen(Kuhlau biography is written by him)
It feels more sad that this melody has been uploaded on our IFKS's homepage since 14. July 2011. http://www.kuhlau.gr.jp/e/e_about_kuhlau/ee_reading_and_hearing/op_46_3.html
(Please click this URL. You can read and listen this music.)
It is really sad and embarrassed.

When someone can get the correct answer, I am willing to explain about it. I call him or her a Sherlock Holmes. There has never been any one to come to me with the correct answer. People who play this melody in the end of my workshop are increasing gradually while I am extending the time to do it. But a Sherlock Holmes didn't appear in Japan.
But only one person could write its correct answer easily. That is Dr. Busk. I sent a New Year's Card translated into English. He said to me in his letter, "It is obvious." It is really obvious. Because he and I are always discussing about Kuhlau's piano sonatas containing this melody by e-mail. He is an exception.
Maybe, I figure out that a Sherlock Holmes doesn't come." I'm too embarrassed to keep lying. Therefore I made a decision to explain about it. Do you understand my wondering mind?

We think about what it is and who composes it when we meet an unknown melody. But in case of a melody composed by a famous composer, we are easy to get it a good music. This time we have to judge whether it is good or not from its music itself.

It is important for Judging art, you should not decide from artist's name.
 
I have many experiences about it. Many people are superficially judging Kuhlau as just composing only sonatinas.

Kreisler is not only a violinist but also a composer. He had his many compositions and misled those parts of them as composed by someone else. Rondino on the Theme by Beethoven is famous. Despite of his own work, its naming is as if Beethoven himself composed it. In fact, Beethoven didn't compose it. Many people would be paid attention to it when it was announced.

If I named this music as Andantino grazioso the theme by Beethoven or Chopin, I would have the same bad reputation as Kreisler. I think my trick is less malicious than Kreisler's. Enma, one of Japanese Gods, might say to me, "Go to hell." But I guess, one might forgive my trivial lie. It is Kuhlau who had composed this music.

You can listen to this original sonata at our IFKS's regular concert when four bands for Kuhlau's piano sonatas will be published.
The 22th regular concert will be held at a small hall in the Suginami Public Hall from 7 o'clock pm on 10 October 2012.
and also
The 23th regular concert will be held at a small hall in the Suginami Public Hall from 7 o'clock pm on 26. November 2012.
I'm looking forward to meeting all of our members there.
Please check its details in the concert information on our home-page.
Script by Toshinori Ishihara on 1. May 2012.
(Translated: Yumiko Uchida)
---
You can listen "Wanted Sherlock Holmes". The Arrangemnet for flute and piano.
Click here <to "Wanted Sherlock Holmes>