Previous note of the 32nd IFKS Regular Concert 
"Piano · sonatinas and easy sonatas collection" Volume V publication commemorative concert
~ Enjoying Ensemble with Kuhlau's Sonatinas ~
● the 32nd IFKS Regular Concert
We are preparing the concert.
10/25 (Thursday) Tiara small Hall (opening timeundecided)
Concert theme:
"Piano · sonatinas and easy sonatas collection" Volume V publication commemorative performance
~ Enjoying Ensemble with Kuhlau's Sonatinas ~

Player:
Miyuki Washimiya (piano)
Ayuko Taruno (piano)
Kikuko Shibata (piano)
Noriko Yoneyama (flute)
Hiroko Ono (flute)
Chiyo Nohara (Flute)
Following the piano sonatas collections I to IV, currently compiled Volume V contains the following 19 songs.
Op.20 (3 songs) Sonatinas
Op.55 (6 songs) Sonatinas
Op.59 (3 songs) Easy sonatas
Op.60 (3 songs) Easy sonatas
Op.88 (4 songs) Sonatinas

 Op.20-1 is the most famous of the Kuhlaus piano · sonatinas. It is compiled as the first work of "the Sonatine Album" Volume 1 (first), probably because the piano teacher is suited for the first work of the assignment to the disciple. Op.20-1 thinks that its structure is simple even if you compare the other two works, and the technique is the easiest to pick up. We say Op.20 as "Sonatine", but when Kuhlau sent this works to the publisher (Brieitkopf & Härtel) he said "small sonatas" (Kleine Sonate) and the word Sonatine he did not use it. When I asked pianists, how manyKuhlaus Sonatinas did you play? Answer was surprisingly very small. It seems that there are hardly any pianist who played all Kuhlaus sanatinas.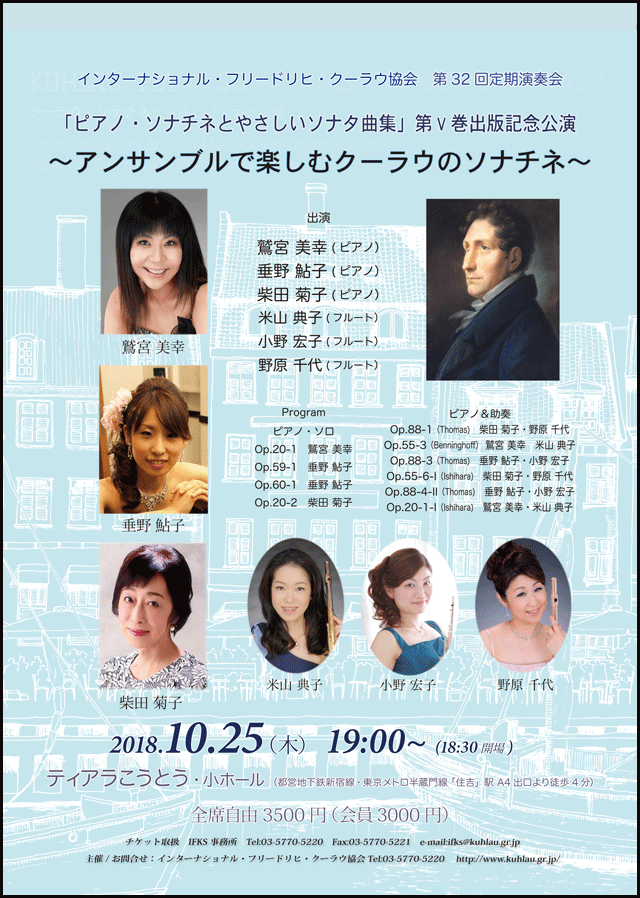 Do you know this song reminiscent of Schubert's "Lindenbaum"?
That's right.
This is the 2nd movement of Op.88-4.
It is a work with a moist taste.
There are surprisingly few pianists who know this song
It is probably because this work is not listed on "the Sonatine Album (Japan version)".
---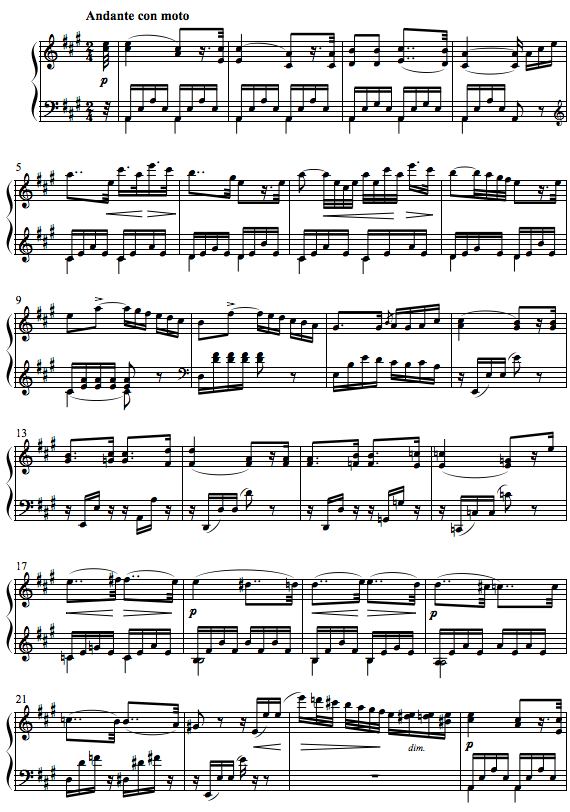 --- abbreviated below ---
---
Please listen to the next work after listening.<click>
---
Uploaded 2018.7.10