IFKS Newsletter 2016 was published.
Dear Members!
The URL of downlaod was sent to your e-mai box.
Plese download and enjoy it.
We are looking forward to your impression or opinion.
If you have not recieved the mail of URL, pleas let us know.
---
Contents
Greeting from administrative direktor / Toshinori Ishihara
Preface to Piano score of "William Shakespeare" / Georg St. Bricka
"Die heile Welt" / András Adorján
Introduce of the forthcoming book. / "Kuhlau-Handbuch für Flötisten" by R. M=Dombois
Das 2. Kuhlau Festival in Tokyo 2015 / Henrik Svitzer
Kuhlau's bust comes to Aoyama! / Toshinori Ishihara
The Concert of Kuhlau's Piano Concerto Op. 7, the Premier in Japan? / Toshinori Ishihara
About the Appendix of Newsletter No. 17 / "Comische Canons" by Kuhlau / Toshinori Ishihara
Information of the publishing "RONDOS AND OTHER PIANO PIECES"
Voice of members (Japanese)
Voice of performers of the 29th IFKS concert (Japanese)
etc.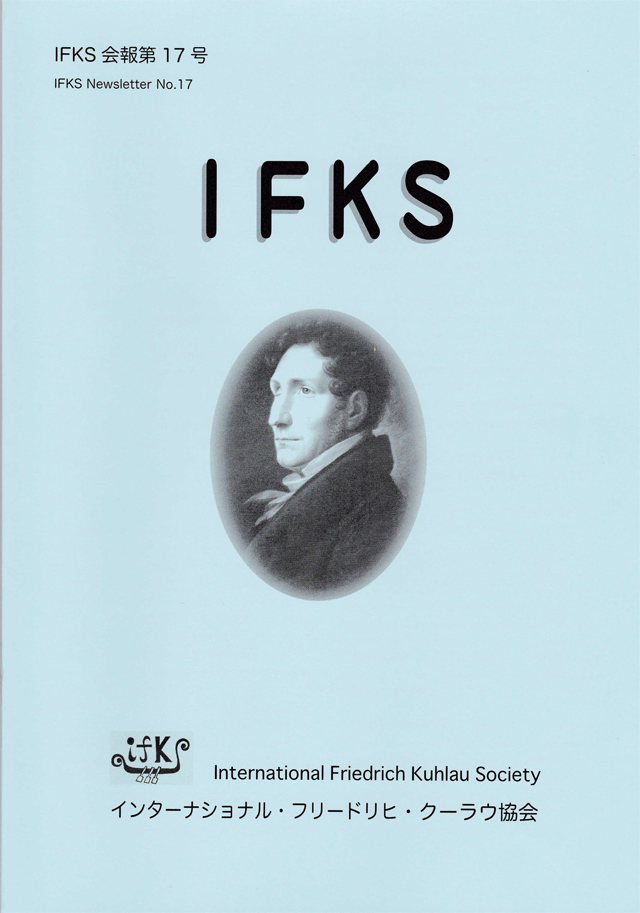 Click the cover
---
Updated 19. 9. 2016
IFKS Office : ifks@kuhlau.gr.jp